Company Info
Company Profile
Company Profile
Corporate name
HappyJapan Inc.
Representative
Chief Executive Officer: Keitaro Harada
President and Representative Director: Masayoshi Yokoo
Address
3515 Tachiyagawa 3-chome, Yamagata-shi, Yamagata, 990-2251 Japan
Established
November 3, 1923
Capital
73 million yen
Number of employees
296(as of January 2021)
Business activities
Manufacture, processing, sale, and repair of

Sewing machines ・Industrial embroidery machines
General industrial and electrical machinery and appliances
General castings ・Household electrical machines;

Sale of everyday sundries
Sale of components and auxiliary products
About New Brand Mark

HappyJapan's Monozukuri* is to create value-added functional products by integrating our customers' wishes and our R&D technologies and by expanding our vision by which to see the world.
The design of our brand mark represents our vital willingness and spirit of innovation in Monozukuri* .
Monozukuri* literally means "making things" in Japanese but embraces the skill, spirit, and zest to produce excellent products.
The communication statement "Technology and Beyond" condenses HappyJapan's philosophy and vision, and explicitly represents its corporate attitude to "expand happiness in the world, by using its next-generation technologies."
*Monozukuri literally means "making things" in Japanese but embraces the skill, spirit, and zest to produce excellent products.
History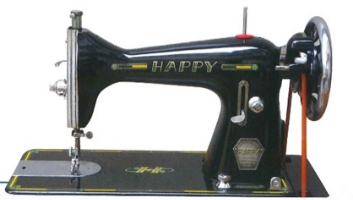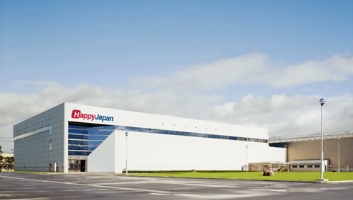 1923
Founded wood pattern factory in Miya-machi, Yamagata-City.
1927
Started casting. Name changed to Harada Casting Factory.
1940
Incorporated and changed corporate name to Harada Manufacturing Co., Ltd.
1945
Founded Happy Sewing Machine Sales Co., Ltd.
1948
Founded Tohoku Seiki Industries Co., Ltd.
1953
Changed corporate name to Happy Sewing Machine Mfg. Co., Ltd.
1969
Built Tachiyagawa Plant.
1978
Founded Taiwan Happy Sewing Machine Mfg. Co., Ltd. and started operation in Taichung, Taiwan.
1985
Changed corporate name to Happy Industrial Corporation.
2000
Aquired exclusive sales rights of SINGER Brand Sewing Machine in Japanese market.
2005
Obtained ISO9001 Certification.
2010
Obtained ISO14001 Certification.
2011
Relocated Head Office to Tachiyagawa, Yamagata-City and integrated it with plant division. Founded Shanghai Happy Trading Co., Ltd. in Shanghai, China.
2014
HappyJapan Inc. was established through a merger of Happy Industrial Corporation, Tohoku Seiki Industries, Ltd., and Singer Happy Japan Co., Ltd.
Constructed plant and began operation in Prachinburi Province, Thailand.
2017
Began mass production of home-use sewing machines at a plant in Thailand.