Embroidery Machines
Options and Accessories
Cap Frame Set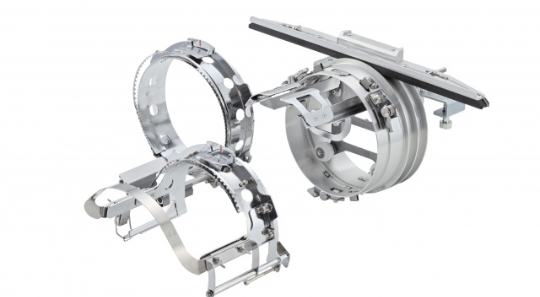 Two selections of Cap Frames.
Wide Cap Frames cover larger embroidery fields.
Low-Profile Cap Frames are more suitable for cap front side embroideries.
Embroidery field (DxW)
HCH/HCS
Wide-Cap: 67x290mm
Low-Profile: 67x180mm
HCD/HCR
Wide-Cap: 80x360mm
Low-Profile: 70x180mm
One Point Frame Set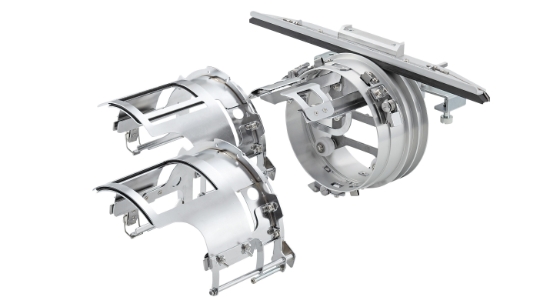 For one point embroidery work on shorts, bags, pants or shorts' pockets and etc..
Two clamp sizes are available for all models and Long size clamp is only for HCD/HCR series.
Embroidery field (DxW)
HCH/HCS
Small: 44x40mm
Large: 55x76mm
HCD/HCR
Small: 64x40mm
Large: 60x76mm
Long: 200x55mm
Shoe Clamp Frame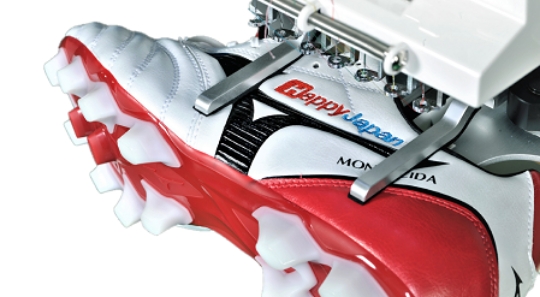 For team names, player's names and numbers on shoes, Shoe Clamp rigidly holds a shoe during embroidering.
Maximum embroidery area: D60xW100mm Two arms are adjustable in width from 0 to 100mm that enables jobs on small sizes of shoes, too. This clamp can be used not only for shoes but also anything as long as two arms can hold.
Sock Frame Set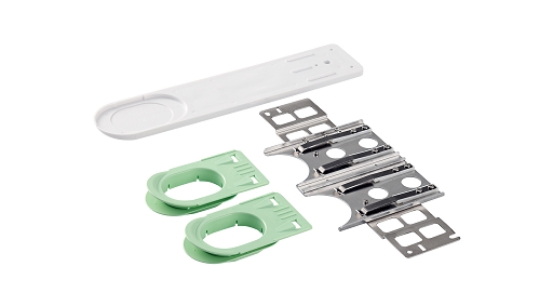 Tubular Sock Frame Holder is designed for embroidering on a pair of socks. Easy setting and operating with this frame set that enables a job done in one time for a pair of socks. The machine automatically sets a design logo on each sock.
Side Clamp Frame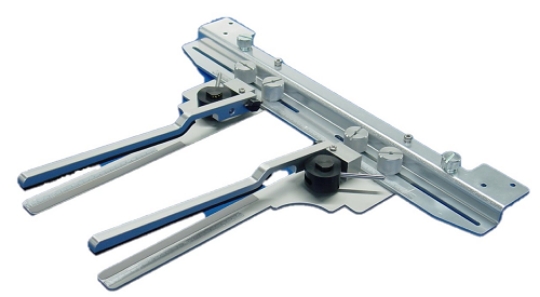 Side Clamp is the best choice for embroidering on bags, leather and other think materials that can't fit in tubular frames.
Maximum embroidery area: D140xW220mm Two arms are adjustable in width from 0 to 220mm that enables jobs on narrow shaped materials.
Manual Clamp Frame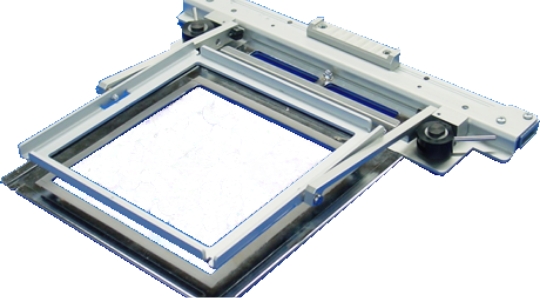 Square Clamp for HCH, HCS and HCD series enables to hold thick or delicate materials without leaving wrinkles or marks on the cloth. For any materials that can't fit in tubular frames are suitable for this. On top of that, this clamp is very easy to use with two levers operation to clamp and release materials.
Two sizes are available – Small: D150xW150mm Large: D150xW300mm
Front Table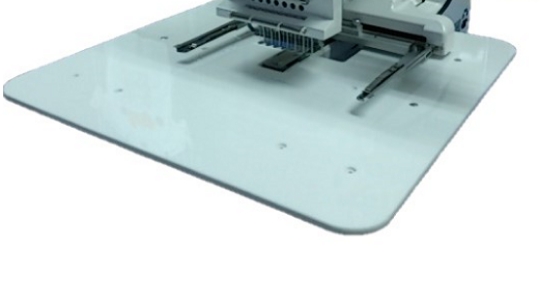 Front Table supports a tubular frame and enables to suppress shakes of the frame while embroidering on the heavy material.
One Touch Frames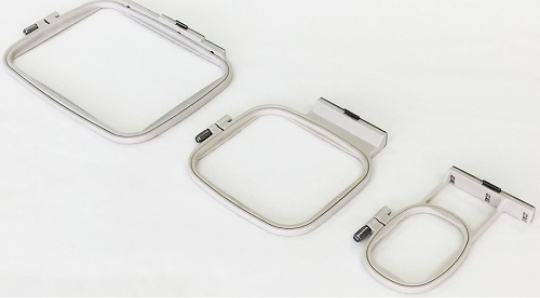 Mounting the frame base on the machine first, then pins hook on the link plate that hold a hoop. The hoop can be detached from the frame base in one step by pressing its release lever. Setting the frame is also one step and it makes operations smooth and easy. Three different frame sizes are available.
D160xW220mm, D130xW150mm, D90xW60.
Spider Frames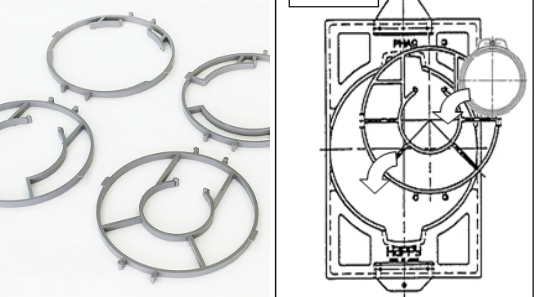 Spider Frames for HCD, HCR and HFR series. Combinations of Spider Frame Holder, Spider Frame and Round Frame work as one set on Border Frame. 5 different sizes of round frames are easily changeable along with each size of Spider Frame without using any tools.
5 round frame diameters are 90mm, 120mm, 150mm, 180mm and 210mm.
Round Frame Preparation Base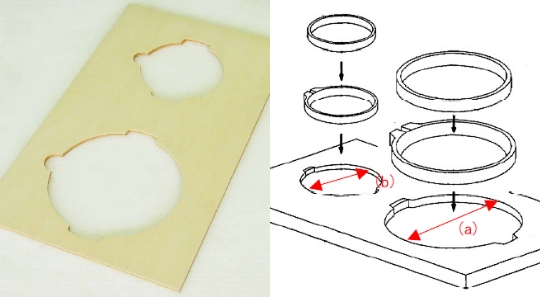 Preparation base for Round frames helps operators to set materials on frames and reduces clumsiness.
Preparation Table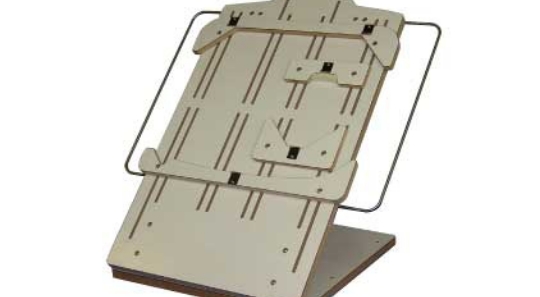 Preparation table is useful when setting T-shorts and similar finished-products on tubular frames. It's adjustable for wide range of material sizes with the guide control.
Bobbin Thread Winder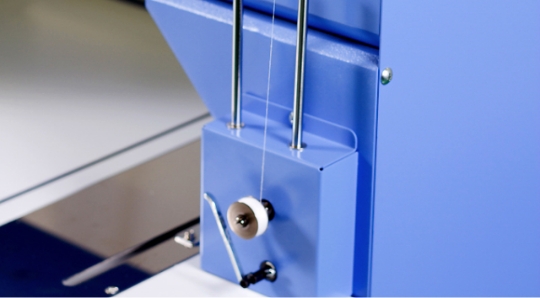 Optional built in Bobbin thread Winder is available for HCD, HCR and HFR series.
Laser Position Marker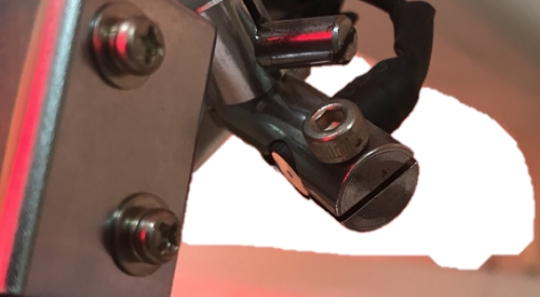 Optional Laser Position Marker is available for HCS, HCD, HCR and HFR series. No more hitting frames.
10.4 inch Control Panel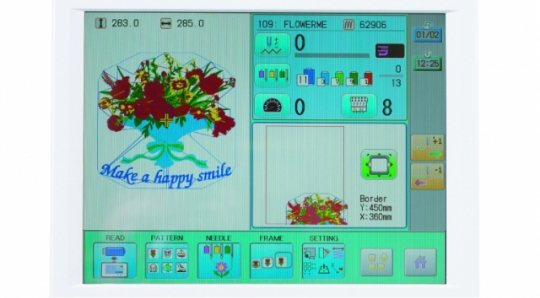 The larger monitor with larger icons makes operations more comfortable and can show more many short-cut icons on the screen. Available for HCD, HCR and HFR series.
Safety Sensor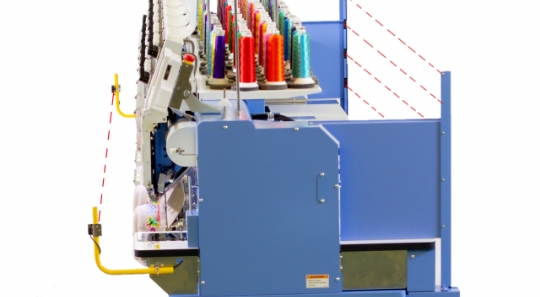 To avoid getting injuries by accidentally touching the working machine, Safety Sensor automatically stops the machine when an operator comes too close to the machine. These optional safety sensors are available for HCD, HCR and HFR series.
Front Safety Sensor is for all three models and Rear Safety Sensor is for only HCR series.
Upper Thread Holder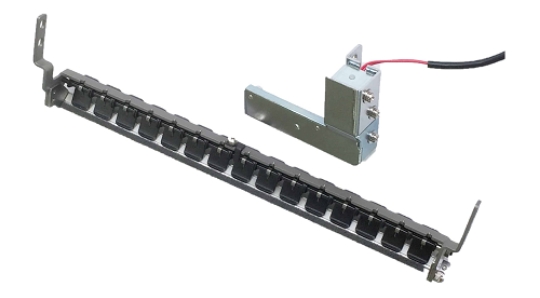 Electrically controlled upper thread holders provide tight grips on each upper thread after trimming. No more trouble with upper thread escaping from needles. Available for HCD, HCR and HFR series.
Borer Device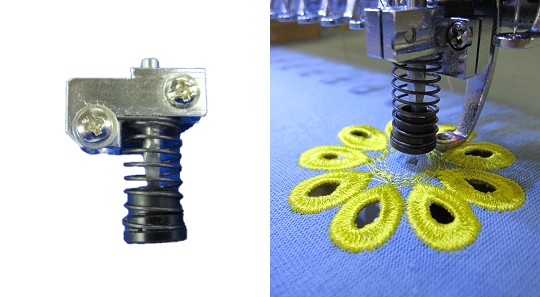 A sharp knife in this device enables to hollow out garments for lace embroideries or adding an extra taste on your work. Available for HCD and HCR series.
Border Frame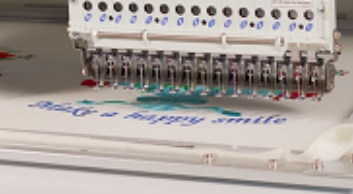 Border Frame on HCR3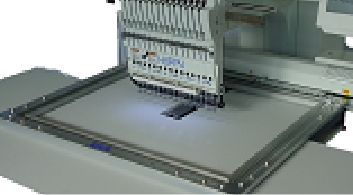 Border Frame & Table on HCD2
Border Frame is to embroider on original fabrics and provides the maximum embroidery field that the machine has
Expand Carriage & Table Set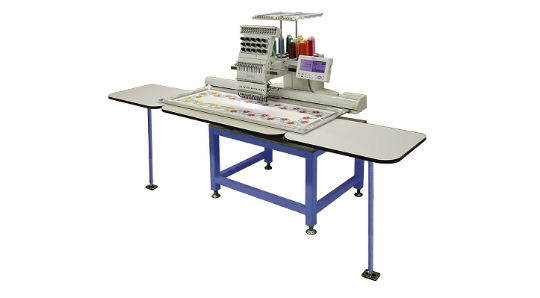 Expand Wide X Carriage, Border Table and Side table set option for a wide range embroidery up to 400x1200mm field. Only available for HCD2 model.
Sequin Device & Coding Device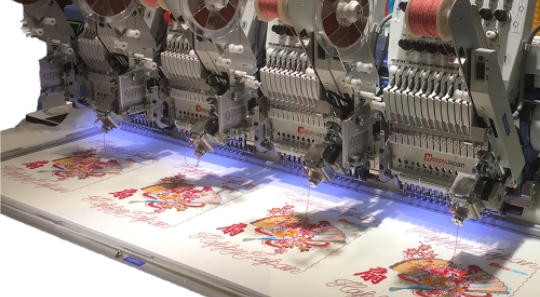 For additional decorations on embroideries, Sequin Device and Zigzag Coding Device options are available for HCD and HCR series.
Various Frames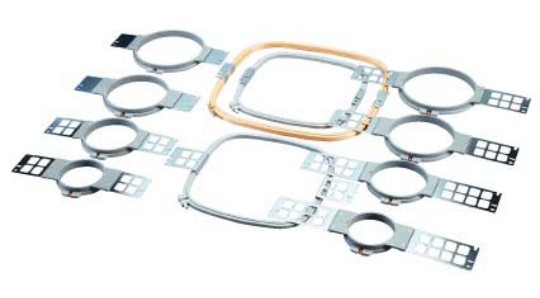 Happy's original variety tubular frames.
Inquiries
For more information, please contact us on the following page.
Contact Us